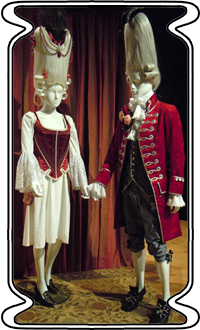 Valeria's love for performance and costumes comes from an early age due to her family's influence, whose interests include singing opera, scenic arts, theatre acting and directing, expertise in military uniforms and dress making. She worked in Rome with an amateur theatre company as assistant director, organising wardrobe and alterations and sourcing props, and on a short film helping with scenography.
Having moved to London she attended courses at Central Saint Martins in order to improve her making and feed her passion for costumes for performance. After working as a graphic and web designer, Valeria decided to turn her passion into a career, graduating from Royal Central School of Speech and Drama with a first class BA in Theatre Practice Costume Construction and has since gained experience as a costume maker, standby, buyer and costume supervisor assistant for a variety of movies, theatres and operas.

She has worked as assistant supervisor at Royal Opera House and as a maker on a variety of movies such as Disney's "Cinderella" and "Beauty and the Beast".

Her skills include: dressmaking, tailoring, latex clothing, corsetry and undergarments, period and modern wear, pattern cutting, draping, basic millinery, North American smocking, costume standby, assistant supervisor, sourcing and buying, Word, Excel, Photoshop and Illustrator.